Self-reflection: Mirroring/Exhibiting the Self
By the end to April 2017, our 360° Mirroring/Exhibiting the Self has come to an end. Having seen our on-campus exhibition A century of Self-expression three years ago, I wanted to take an exhibition seminar and curate my own exhibition since my freshman year. My dream was realized in my senior year, with the completion our successful exhibition Mirrors and Masks: Reflections and Constructions of the Self  and its professional exhibition catalogue. This two-component seminar, with the first semester focusing on writing the catalogue and the second semester curating the actual exhibition, was a challenging yet rewarding experience for me. The theoretical discussion conceptualized my understanding of our art objects by writing concise, thoughtful catalogue entries, and practicing curatorial strategies and practical skills (such as advertising, communicating and website design).
I approached this project from a personal perspective while curating this digital exhibition in an idiosyncratic, or rather "informal" way. This exhibition imitated the form of my own archive, presenting an open-ended narrative from snapshots, colloquial quotes from diaries and more formal explanations: the quoted texts were the notes that I wrote throughout the two semesters to keep track of my progress; and the accompanied photos were either my own photos or screenshots of the social media posts (caption included) made by other members in the class. Dividing my self-reflection into five components, I intend to show what did we accomplish, how did I get to know these objects, and how did I get to know my peers and myself over the past two semesters.
Encounter the Objects
Having given a rough guideline in the fall semester, I browsed over the objects in the Special Collections on TriArte over the summer. I was amazed when I first realized that there were so many objects related to the preliminary theme "mirror", and it was hard to choose the three objects for my catalogue entries. After our second class, I decided to challenge myself and chose the objects that I barely knew about (nor their creators).
.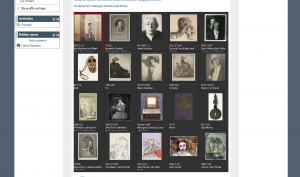 When I arrived the college and the course started, I get to see these objects in person for the first time and feel their physicalities (size, color, and texture) on my own. The actual objects were very different from what I expected as simply looking at the digital images.
 (08/29/2016, from my notebook)   
These are the Instagram posts showing the occasions when we got to see the actual objects we were going to write about!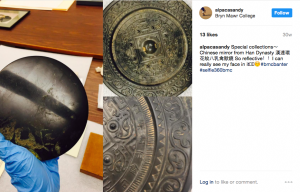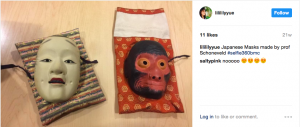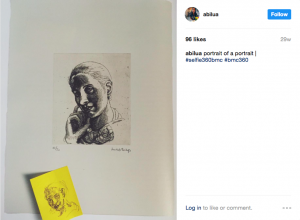 Consulting the primary materials left by President M. Carey Thomas in the college's archive, I started to feel her portrait becoming vivid and gradually revealing its own history. This fascinating experience reminded me how significant the primary sources could be in telling narratives of my objects and showing their own history. I wrote in my note that,
My objects should not be treated as dead objects hiding inside the storage rooms.
 ( 11/09/2016, from my notebook)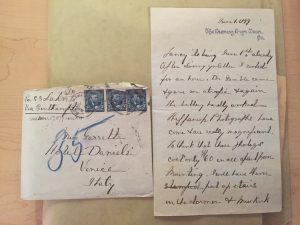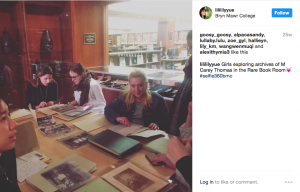 Capturing the Self
I love the selfies we hashtaged for the blog. I had taken many selfies before and yet selfies with my mirror image significantly increased since this class. The following photos show how may art and artifacts facilitate to make self-representations. Interestingly, these selfies were kind of the earliest chances for me to get acquainted with my classmates.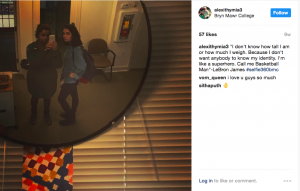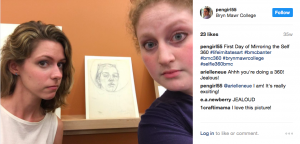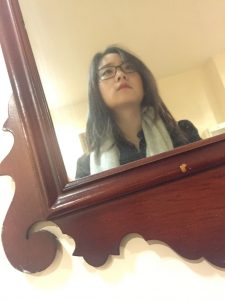 Exhibiting the Self
Compared to the relatively individual research we had for catalogue entries in the first semester, the second-semester seminar involved more group work: including writing wall texts, working in group committees (event planning/education/web), designing/installing the exhibition, and most importantly, reaching out to the public. It took us great effort to prepare the opening of the physical exhibition in only three months. Theoretical readings of curatorial philosophies/strategies, as well as catalogues of other exhibitions, were assigned as guidelines for designing our exhibition's floor plan, writing wall texts, and determining object layouts/juxtapositions. Unlike catalogue entries, the thematic labels and object labels were written collectively in groups and edited by the entire class. Therefore, the wall texts presented a more collective description, compared with the more personal voice in the catalogue entries.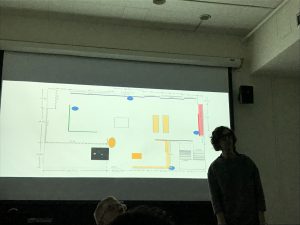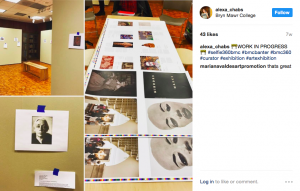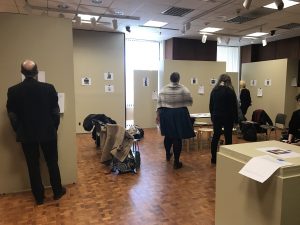 I was in the web committee which was in charged of creating an online exhibition complementary to the physical exhibition. Web design was a brand new area for me, but it was exceptionally satisfying for me to realize my growth, after I got familiar with the platform and experienced an entry-level "self-taught css/html class" in one night.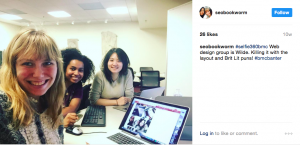 The preparatory work ended with an installation process, followed by the long-expected exhibition opening!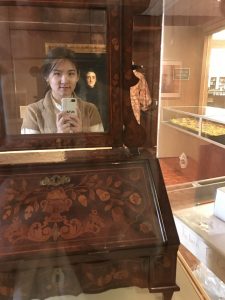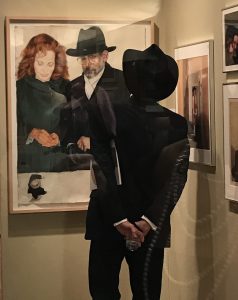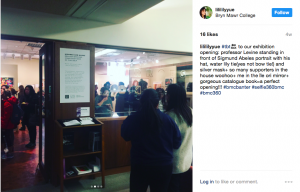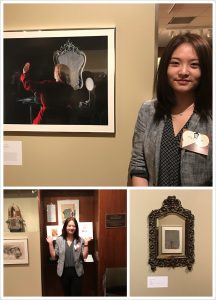 From our preliminary catalogue entries to the exhibition opening, our group effort over the past seven months finally make this great success! Thank you all for coming tonight and your strong support all the time!
(03/23/2017,  from my WeChat post)
Meet the Donors/Artists/Curators
The special treats of our class were the class visits of the donors, artists and curators. It was interesting to hear about their own motivation of keeping their collections or making art. These conversations added up more layers of interpretations of the objects. The history of each object, from its creation by the artist to its destination in a collection, was so unique and intriguing. In my entries, I tried neither to be sensational nor overemphasizing the importance of anecdotes over academic study, but to achieve a balance presenting both sides.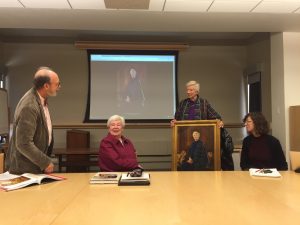 I always wonder what should be considered as 'good art', or, if there is 'good art' essentially. Both Sigmund Abeles and Rachel Bliss said in their talks that 'good art' should talk to the viewers (like enticing and proactive, or simply personal empathy?).

(04/02/2017, from my notebook)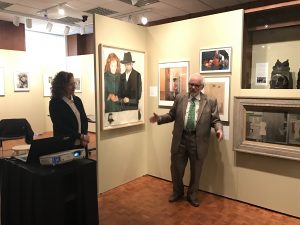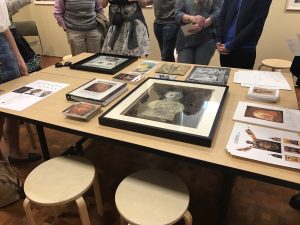 It was also rewarding to hear curators talking about their exhibitions and their strategies when they curated exhibitions. There were so many approaches that could be taken if the agenda and message were different.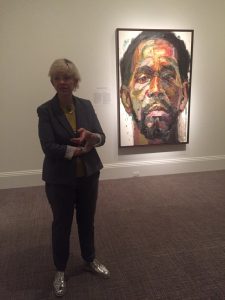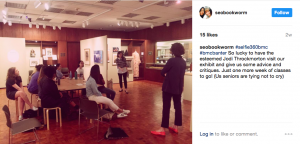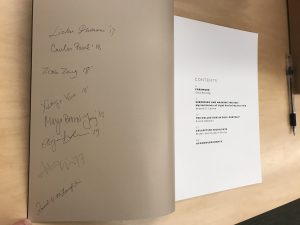 Creating the Self
This program inspired me significantly beyond its own scope. My senior thesis – with the topic on the self-portraits of Pan Yuliang, a Chinese woman artist in the early twentieth century – was greatly influenced by the readings I had about portraiture and self-portraits made by women artists.
My learning experience also re-conceptualized the definitions I gave to "mirrors", "masks", and "portraits". The following photo shows a "portrait" collectively made by three of my classmates and I during the visit of Rachel Bliss, the artist whose self-portrait had been selected in our exhibition. The collage was finished in a few minutes after each of us tore a piece of paper into smaller pieces and rearranged them together. Without the attempt of giving it any 'identity', this "portrait" shows an anonymous quasi-human figure showing "birth/death rate" on its body (the words were on one piece of paper that we accidentally found).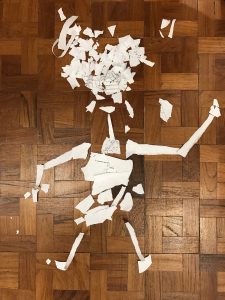 My study also made me to rethink the process of drawing my self-portrait. What did I realize about myself and how did I create this "self-image" among others'?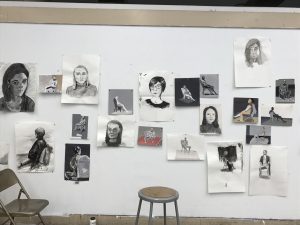 Endnotes
This final project inspired me not only to reflect upon my experience in this 360° program but also my four-year study in art history at Bryn Mawr. It makes me think how this experience – writing professional catalogue entries and curating an exhibition – relates to my own life. Taking this unique opportunity, I asked myself the very questions, "why did I want to study art history"? During my researching and curating process, I started to feel the "instinctual" connections I had when I encounter with the actual art objects. It is the art itself, more than those countless layers of theoretical interpretations, that I am passionate about.
Over the past eight months, I can witness my growth as I pushed myself out of my comfort zone, acquired more skills, and became more confident in presenting in the public. And last but not least, I would like to address my special thanks for my classmates, my instructors, the faculties, our alumnae, and those who supported me along the journey.