"Where is the mirror in the world to reveal who I am?"
–Miriam Schapiro
The Construction and Connection of Selves
"The proper object of my confessions is to make known exactly my interior, in all the situations of my life.  It is the history of my soul that I have promised, and to write it faithfully I have no need of other memorials:  it is enough for me, as I have done till now, once more to enter inside myself"
 –T.J. Clark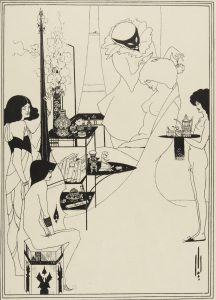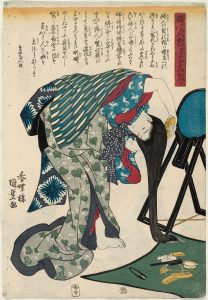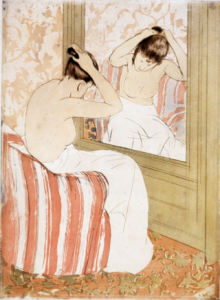 Coming from China to the United States, I know I have always interested in the fuse of western and eastern art under the influence of my East Asian identity. I was excited to write about my favorite artworks and expected to uncover the masked connection among all subjects in our exhibition, and gradually explored my own embedded identity. Seeing my objects in person and making connections with other artworks in the catalogue or in Bryn Mawr Special Collection was essential; I did not only focus on my identity as a Chinese, but also as a Bryn Mawr student who have access to different groups of people in the community and different genres of artworks in our rich Special Collection.
While researching and writing catalogue entries about works that are familiar to me, I started to explore other cultures and concepts of identity by reading about other curators' artworks to refresh my understanding about self and identity. New concepts were integrated and new sparks were generated in constructing my identity at this place far away from home.
The encounter with Ile Ori African head shrine unexpectedly revealed my connection with African culture and identity. Surprisingly finding out the similarity on the ideals of life destiny and the cycle of life and death in multiple African artifacts, I uncovered this shared ideals resonating to my experience with Buddhism in China. This unexpected discovery struck me by being more curious about the embedded connection and universality in seemingly strikingly different cultures.
"Her preoccupation with the self-portrait is comprehensible if we understand the power of a self-portrait to, like a mirror, reflect a unified self-image, in the Lacanian sense, and to project that unified self into a public arena through exhibits–important steps to subject hood."
–Liza Bakewell
Retrospecting this journey of self recognition and construction, I believe that group work played an important role in enhancing my knowledge about self from brand new perspectives. Communications with other students curators about their curatorial decision and the perspectives behind it, I was not only considering from merely formal, geographical or cultural commonalities, but also the opened up my mind to the cross-cultural and cross-space connections among artworks. As groups, we placed our emphasis on different interpretations of an artwork, exchanged our ideas, and contended about how to optimize the space organization and installation to give viewers an amazing museum experience.
The Unexpected Rediscoveries
—
My previous summer internship at the Palace Museum serves as a sheer contrast to this 360 curatorial experience, which shaked many of my alright established notion of curatorial practices in museums. Conventional museum practices — wall label, tour guide, special events– became unconventional experience that made me rethink of curating as not only a teaching experience but also a self-learning experience
—
Writing 50-word Wall Labels! It sounds relatively easy compared to a 500-word catalogue entry, but a lot of elements needed to be considered: matching with themes and making connections with other artworks, inspiring audience to come up with their own interpretations, and asking enlightening questions. Compared to the objective and archeologically focused wall labels I read in the Palace Museum, our wall labels aimed at inspiring personal reflection and interpretation rather than enforcing curators' understanding on visitors. This style brought not only curators and visitors into a dialogue about identity, but also gave me the chance to know about my fellow student curators' interpretation and the angel they focused on.
Student-leading exhibition tour component did not draw my attention at first: tour guide was not an unfamiliar role to me, with my previous experience at the Palace Museum. However, I found myself learned so much in my tour themed on East Asian objects for the graduate student group. The previous tour guide workshop had been a mind-blowing experience that shaked my expectation of a tour, and I was able to draw connection not only across thematic groups, but across culture identities and mediums. I was truly satisfied after seeing other people get something out of my tour and ponder about what self meant to them.
My experience at the Palace Museum led me to know about various museum works, but this class had been a non-stop surprising and unexpected elevating experience. Working previously in the Development Department, I was encouraged to join the Event Committee. My internship gave me a taste of how special events can bring maximum coverage and publicity to the museum itself, and become a crucial part in many major museums. They can also become occasions that give visitors a better understanding of the center theme and artworks exhibited, making connections with an inspired and open mind.
However, I found that event planning can be challenging since creativity and efficiency are both required for this process to target the right audience and exploit limited resources. Even though we had a lot of good original ideas about how to optimize visitors' experience and advertise our exhibition as widely as possible, we neglected the importance of efficiency and were overwhelmed by our overly detailed committee presentation. With the help of Professor Robbins and Professor Levine and suggestion from student curators, we realized that whether the ideas would work out well under limited resources and time was always the top priority in event planning and designing.
Another important component of committee work is cooperation and coordination. The administrative group work had been a valuable lesson in terms of how challenging it can be, especially with a fast-approaching deadlines. Communications not only matter in inspiring new ideas to have special events properly serve and optimize the exhibition, but also in catching up with event arrangements and evenly dividing up works among members.
Giving & Receiving
—
The aim of the 360 program is to allow students to have an interdisciplinary experience composed of academic work and hands-on experience. The various guest speaker lectures, the two class field trips to National Portrait Gallery in DC and to Barnes Foundation in Philadelphia, and the artists' series talk provided me with things I do not normally learn so intensely in a traditional class room. The generous giving from Bryn Mawr alumnae and supporters enriched not only our exhibition but our experience.
—
The field trips to National Portrait Gallery does not only serve as an enriching learning experience of portraitures, but also an occasion to network with amazing Bryn Mawr alumnae and museum specialists. The wide Bryn Mawr network was a great support for us in terms of exhibition curation, job hunting, and network development.
It was really a pleasure to hear artist Sigmund Abeles speaking about his self portraits and experience as an artist. His speech not only influenced my understanding of the exhibition theme, but also enhanced my understanding of the curator role. Thanks for our generous alumna Nora Lavori 71′ for donating several valuable works of art to enrich our exhibition!
Thank You note writing and catalogue signing for amazing people that had helped us along the way! This 360 would not be a so wonderful and enriching experience without the generous giving from so many people! We hope our recipients would like our gift as it leads them to walk through our 360 journey and exhibition.
Receiving help from various experts, donors, and alumnae, I really appreciate to be in a community like Bryn Mawr where I can find support and help along the way. The experience in this 360 course cluster alluded to me to actively participate on Give A Hoot day writing a thank you note to alumnae who made contributions to support college and make college experience wonderful.
#Finishedbutnotdone
Along my journey in this 360 class, I have been immersed in a rich environment to explore self and identity with mirrors and masks, both in Bryn Mawr and beyond. I have grown with my multiple identities uncovered in this course, as a Chinese, as a art historian, as a curator, and as a Bryn Mawr student. I have been exploring the different parts of me and piece them together into a unified self, since this course both influenced me internally and externally. It gave me the opportunities to introspect what I learned, not matter it was brand new discoveries or unexpected rediscoveries, through intimate personal experience or interactive group experience.
As I was writing this self reflection, I found out that a lot of seemingly coincidental moments becomes sensible viewing from the larger context, and could not stop recollecting how much I changed during this process. I could not imagine the day when I would carry back my post-graduation experience and walked back to the Rare Book room retrospecting our exhibition as a Bryn Mawr alum. At that time, I am sure I would be able to speak more of the things that I had not uncovered even in this self reflection.